Real change requires that people make a personal choice and assume responsibility for doing things differently than they've done before. By asking powerful questions, you can harness the power of self-reflection and help people assume full responsibility for their professional growth.
---
Change involves three big steps:
Assume responsibility for the way things are and for making them better.
Become aware of your behaviors and how they contribute to the current situation.
Commit to change, with specific steps to put into action.
These seemingly simple steps convey the essence of what you need to do to begin the process of professional growth and change. Though seemingly simple, their power flows from the fact that they require you to explore yourself in ways that might lead to some surprising discoveries.
Download the PDF – Providing Effective Feedback
---
1. Assume Responsibility
To assume responsibility invariably means making a personal choice. This statement points to an important truth: real change doesn't happen because someone tells you to change. Real change means making a choice. You have to choose to assume responsibility for the way things are. And you have to assume responsibility for making them better.
Assuming responsibility for making things better means confronting a paradox of the deepest kind: We cannot see what we want to become. We can only envision it, catch a glimpse of it, and even then only in our best moments. Assuming responsibility means asking a series of questions: "What do I truly envision for myself? How do I want to be remembered? What is the legacy I want to leave? And how do I get there?" Developing your full potential as a leader means trusting in a different, better course—one that's invisible to you now. Remember: The word "leader" comes from a root word that means "to be out in front." The same root word also means "to die." You need to be prepared to shed parts of your old life to build a new one.
When you start tackling these questions in a serious way, the door is open to all sorts of possibilities. You can identify your natural allies, your appropriate teachers, and the types of support you need to create. You can take the initial steps to change. Over time, you will come to see that highly effective leaders are continually scrutinizing their behaviors, accepting responsibility for them, and shedding parts of their old lives to build a better one.
---
2. Become Aware of Your Behaviors
After you accept responsibility for change, you need to become aware of your own behaviors and how you contribute to the current situation. This is not a job you can do yourself. You need people to help guide you. So, assuming you've made a decision to assume responsibility for change, the next step is to find someone to be your mirror—your guide. Ideally, that person is a trained professional, a leadership coach. A good coach will help you in multiple ways, but three are essential: first, your coach will provide you perspective and raise your awareness about how you are perceived by others, both positively and negatively; second, your coach be a sounding board, asking questions and offering counsel; third, your coach will help you pinpoint two to three behaviors to change—and help you instill new behaviors in their place.
An engagement with a professional coach typically begins with a period in which the coach observes. Your coach will want to meet with you and ask questions. Often a coach will conduct confidential interviews to get a sense of what you do well and areas where you need to improve. A coach might also use several assessment tools to help you build a more nuanced picture of yourself. There are personality assessments. There are assessments of your communication style, such as Straight Talk®. All of this helps you draw a picture of yourself in relationship to others.
Your coach may also want to trail you for a few days, observing you in meetings, watching you interact with your peers, sitting in on a meeting with your boss, all to help you get a keener perspective. Your coach may ask you to keep a journal or write a vision of where you've been and where you want to go. Your coach may want to collect 360-degree feedback. A good coach will be both a source of insight and a thorn in your side. If you don't get mad at your coach at least once, he or she probably isn't pushing you hard enough.
Coaches should help you distinguish between skills, competencies, and proficiencies. A skill is something you master, like accounting. A competency, on the other hand, is open-ended and involves continuous learning. Marketing. Strategic planning. Finally, proficiencies are things you're naturally good at. Maybe you're proficient at math or music or networking. A good coach can help you identify your proficiencies and help you decide whether your professional role takes full advantage of them.
---
3. Commit to Change
Once you become aware of your behaviors, the next step is committing to change. Your coach can help make sure this commitment is heartfelt and genuine. What is my vision for myself? How do I need to grow? What is my plan? This is the dialogue waiting to happen.
Using systems thinking, a coach can help you see how several different problems might be caused by the same behavior. Through exercises and training, the coach can help you become more conscious of those behaviors, and help you visualize the benefits of change. A good coach will help you recognize the behaviors as they are being triggered—and help you figure out specific new behaviors to implant in their place.
A coach can ask you to do things you wouldn't do yourself. He or she can focus your attention on a particular pattern of communicating or a style of managing people. With each step, your coach will be your sounding board, helping you reflect on what worked and what didn't work, helping you become the leader you want to become. With humility and conversation as your leverage points, you can start experiencing what it's like to work in a new way. Over time, as you stick with it, these new behaviors begin to feel hardwired. You will have shed your old way of behaving. You will have changed.
---
There are three phases of leadership development to consider:
Each phase has specific challenges and requires a different coaching conversation.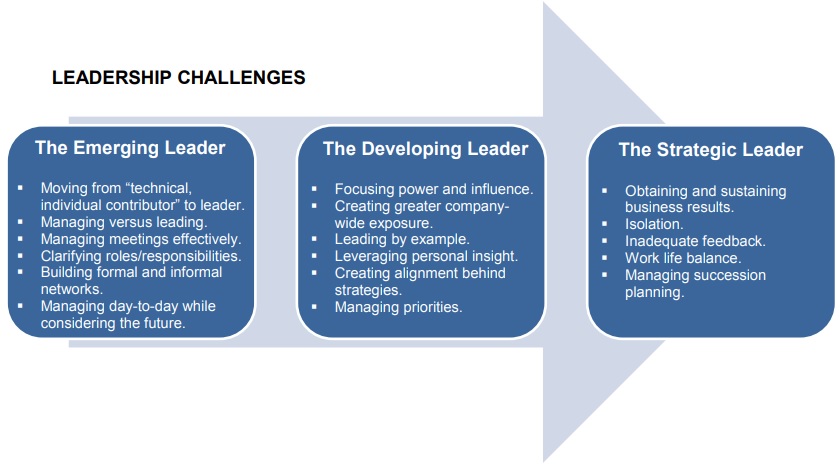 Emerging leaders are high-potential individuals who may be new to management or leadership roles, are being groomed for higher-profile positions, or have been identified as "leaders of the future." The coaching conversation involves:
Exposure to concepts
Self-understanding
How the world works – accelerating levels of personal/professional savvy
Self and social awareness – EI (Emotional Intelligence)
Interpersonal/leadership skills
Problem-solving
---
Developing leaders are currently in management and leadership roles and need to need to enhance their effectiveness, or changed their role and need to develop additional competencies. The coaching conversation involves:
Self-understanding of management & interpersonal style
Factors that lead to success versus current reality
Interpersonal & management skills
Organizational dynamics
Managing their boss & others
Current role & challenges
---
Strategic leaders are senior executives responsible for creating the organization's mission, vision statement, and strategic direction. The coaching conversation involves:
More in-depth assessment, possibly shadowing
Broader scope of conversation – more strategic, range of stakeholders
Broader organizational issues
Skills in confrontation
In-depth conversation about individuals
Personal matters
At times, the role of confidant rather than coach
---
By tailoring leadership coaching conversations to the three phases of development, and reinforcing the ABC's of change (Assume responsibility, Become aware of your behaviors, and Commit to change) organizations can begin to develop a leadership pipeline that helps people assume full responsibility for their professional growth.
Download the PPT – The Three Phases of Leadership Development
---
Leading Resources, Inc. is a Sacramento Leadership Coaching firm that develops leaders and leading organizations. Subscribe to our leadership development newsletter to download the PDF – "The 6 Trust-Building Habits of Leaders" to learn more about how to build trust with your team.