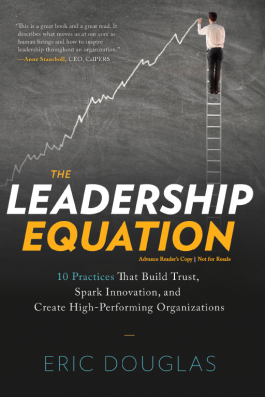 The Leadership Equation:
10 practices that build trust, spark innovation, and create high performing organizations
What do leaders and managers need to focus on to build high performing organizations? Consultant, author and speaker Eric Douglas spent ten years researching the underlying dynamics of successful organizations. The result is his latest book, The Leadership Equation, an immensely powerful guide to focusing and energizing the culture of an organization. Packed with real-world examples and clear-cut strategies, The Leadership Equation is an essential read for leaders seeking higher performance levels and lasting success.
"The Leadership Equation" is available at Amazon and the our store.
Straight Talk:
Turning Communication Upside Down for Strategic Results
Main selection of the Executive Program Book Club:
Whether you work in an office or telecommute from home, in today's fast-paced business world being a successful communicator is more important than ever. The key to having more productive conversations — conversations that can solve problems as well as produce action — is understanding that we all have different communication styles. In Straight Talk, management and organizational consultant Eric Douglas shows how to identify your own communication style and that of others, and how to modify your style for strategic results. Using exercises, surveys, and real-life case studies, Douglas shows how competent communication can help solve today's most urgent organizational dilemmas.
"Straight Talk" is available online through our store.