LRI's founder, Eric Douglas, has been engaging in a series of podcast interviews with CEOs/executive directors to learn what they are learning during this time.
---
Here are the top takeaways:
The lack of predictability is without precedent in our lifetimes.
Leaders are surprised by how quickly their managers and employees adapted.
You have to make decisions quickly, sometimes with far less than the normal amount of information.
Amidst this extraordinary uncertainty, there is opportunity.
We need to set new ground rules for working together in a remote environment.
---
Ep 1: Interview with California State Auditor Elaine M. Howle
In this episode, Elaine M. Howle speaks to the changes/impacts from COVID-19. For over 20 years, Elaine has served as the California State Auditor providing accurate, unbiased, and timely assessments of state/local government entities.
Ep 2: Interview with Director of First 5 California Camille Maben
In this episode, First 5 California Executive Director Camille Maben notes the impacts of COVID-19 and lessons learned. First 5 California programs and resources are designed to educate and support teachers, parents, and caregivers in the critical role they play during a child's first five years.
Ep 3: Interview with SMUD CEO Arlen Orchard
In this episode, Arlen Orchard, CEO of SMUD (Sacramento Municipal Utility District) highlights the key lessons learned through the pandemic. As CEO, he leads the sixth largest community-owned electric utility in the nation serving a population of 1.5 million residents and managing a $1.7 billion budget.
Ep 4: Interview with Mark Larson Senior Vice President of Leadership and Capacity Building at CHCS
In this episode, Mark Larson speaks to the leadership development efforts and remote work transition at CHCS in response to the COVID-19 pandemic.
Ep 5: Interview with Karen Johnson of Covered California, Chief Deputy Executive Director of Operations
To tune into these podcasts, please go to https://excellence-at-a-distance.simplecast.com.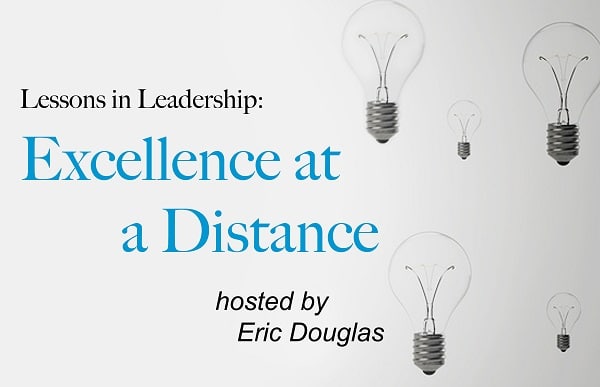 ---
Leading Resources, Inc. is a Sacramento Management Consulting firm that develops leaders and leading organizations. Subscribe to our leadership development newsletter to download the PDF – "The 6 Trust-Building Habits of Leaders" to learn more about how to build trust with your team.