Nobody fails because they make mistakes. Failure is only when people stop trying. Leaders should not frame mistakes as failures, but as learning points—inevitable steps on the path of innovation. Smart leaders know there's much to be learned from mistakes. We worked with a company that made software applications for medium-sized companies. Tom, the company's CEO, was a big, affable guy in his mid-forties and a very open communicator.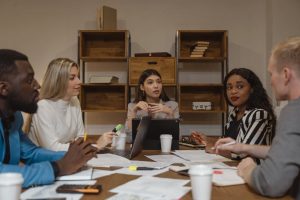 Tom wanted his software development team to create a new product that would dramatically simplify the use of Java tools. Yet Tom worried that the team had grown complacent and risk-averse. "We don't know how to do that," one of his engineers grumbled when Tom announced the result he wanted. "That's all right," said Tom. "You'll learn."
Tom set up four teams inside the engineering department and gave them a deadline to come up with the new software product. On the wall, he put four color-coded charts with milestones and timescales—one for each team. The process created a frenzy of activity. The teams worked long hours to meet the deadline. On the last day, they asked Tom to come into the conference room.
"We've got good news and we've got bad news," the engineering VP said.
Tom glanced up. "Tell me the good news first."
"We've got a heck of a product," said the department chief.
"And the bad news?" asked Tom.
"It doesn't work," said the engineer, "at least not yet."
Tom smiled. "Sounds great," he said. "Tell me more."
The engineers described the product and outlined for Tom how it would work—eventually if given more time. Tom encouraged them to keep working at it. Four weeks later, the team came in with big grins on their faces. "Guess what?" they said. "It works better than we imagined!"
Today, that product is the backbone of the company's record revenue growth.
---
Driving Fear Out of the Culture
Creative flow happens when people aren't feeling afraid—afraid of losing their jobs, scared of losing status, scared of being left out, afraid of being punished.
The dynamics of fear can be asphyxiating to an organization.
Who's responsible for eliminating fear? You are! You should make it a habit to ask your employees: Is there anything at work that causes you to fear? If the answer is yes, do your best to eliminate it. Fun is the natural antidote to fear. Fun helps people relax, be themselves, and speak their minds. At Wal-Mart's headquarters in Arkansas, weekly staff meetings begin with a cheer conceived by founder Sam Walton. To understand this story, you have to know that the punctuation mark in Wal-Mart's name is called the "squiggly." The cheer starts with the traditional "Give me a W . . ." When they come to the squiggly, everyone shakes their bottoms.
So, ask yourself: Do you encourage people to relax and have fun? Do you make a point of driving out fear? Do you provide opportunities for people to let down their hair and laugh together? If you're answering no, then you're probably not doing everything you can to drive fear out of your workplace. When you have a workplace that fosters creative flow instead of fear, you encourage an environment in which people will have the confidence and drive to keep on trying even through their mistakes. This mindset can help keep failure at bay, and in turn, lead to success after success.
---
Leading Resources, Inc. is a Sacramento Leadership Coaching firm that develops leaders and leading organizations. Subscribe to our leadership development newsletter to download the PDF – "The 6 Trust-Building Habits of Leaders" to learn more about how to build trust with your team.