Core values should capture what's essential to the long-term, sustainable success of your company or organization. Defining your company's core values means taking the time to engage in a deep exploration of what truly is essential to its success.
---
What steps should you take? How do you begin the process?
Developing core values begins with exploring questions like these: "What would someone who is acting in the best interest of this organization say is most important to ensure its success?" This is the essence of John Rawls's "neutral man" standard, which he articulated in his groundbreaking book A Theory of Justice.
Here's a trick: I've discovered that people need to explore certain broad categories of core values to make sure that they identify all the core values relevant to their organization.
The following diagram shows these different categories: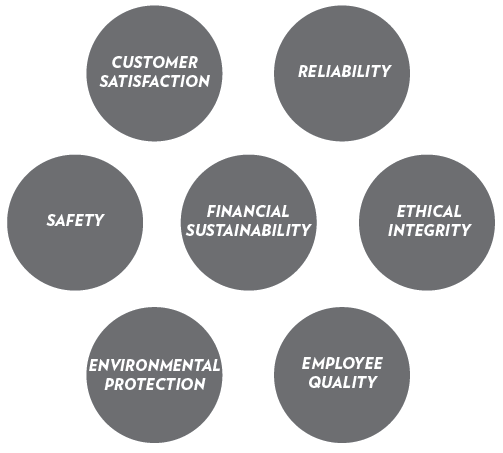 Why these seven? Customer satisfaction and reliability are obvious, since they cut to the heart of attracting and retaining customers, regardless of your product or service. Ethical integrity is essential as well. Given the transparency revolution, companies simply risk too much by not behaving ethically. Attracting and retaining talented people is also essential. Safety is critical to success in many companies. And environmental protection, while at one time not viewed as an essential activity, is now seen by many companies to be a core value, both because it's the right thing to do and because damaging the environment can be ruinous to a company's reputation. And finally, financial sustainability is essential. Without financial resources, the enterprise cannot function.
In short, these broad categories of core values are a good starting point for exploring what is essential to the success of your organization. By exploring all of them, you can be sure that you've left no stone unturned. Knowing the broad categories is just the starting point, however. You must develop the details surrounding each core value, including the management and employee behaviors that support each core value (what I refer to as the "we statements"). You also have to peg the core values to a scorecard, so you can measure whether they're being achieved.
---
Here's a four-step process to help your organization define its core values.
---
Leading Resources, Inc. is a Sacramento Consulting firm that develops leaders and leading organizations. Subscribe to our leadership development newsletter to download the PDF – "The 6 Trust-Building Habits of Leaders" to learn more about how to build trust with your team.