People often ask me what the secret is to high-performing organizations? I surprise them by saying: "Talk." As consultants, one of the first things we look for is the level of talk, the quality of talk, and who's doing the talking.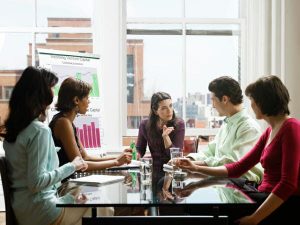 Here's a typical example. At a large California nonprofit, we discovered that the leadership team, consisting of the CEO, COO, and two senior program leaders, met weekly. At the next level, a group of ten mid-level managers met weekly as well.
But despite these meetings, actions across departments were not well coordinated. Goals weren't being met. There was a lack of accountability and performance. As we dug deeper, we found that one mid-level manager had been named the "liaison" to the leadership team. Her job was to carry problems from the mid-level managers to the leaders and to ferry back solutions.
We facilitated a meeting with the leadership team and asked them how this system was working. "Frankly, it's hard to tell," said the COO. "We wanted them to have a forum of their own so they could gel as a team." Remarked the CEO: "Maybe so, but things aren't getting done. And that's a problem."
We suggested that the "liaison" role was blurring lines of accountability. We suggested they consider eliminating the mid-managers' meeting, substituting for it a biweekly meeting between senior leadership and mid-level managers. In these meetings, either the CEO or the COO should always be present—and the focus should be on results, finding out where problems were occurring, and asking why. "Talk about your business plan, what results you're getting, and what's needed to improve results," we said. "Talk only about that."
The CEO embraced the idea and it was implemented the next month. It quickly surfaced that the mid-level managers were fretting over staff allocations. Resources were not being shared. The liaison said she was glad to no longer be caught in the middle. The CEO began asking tough questions. The managers began focusing on performance rather than headcount. One particularly territorial manager was moved aside. Over the next six months, the others showed significant gains.
We see the same pattern all the time. While the specifics may differ, in organizations where talk (the right talk among the right people) is emphasized, trust, accountability, performance, and success are also present.
---
Related Tool: The Four Powers of Communication
---
Leading Resources, Inc. is a Sacramento Management Consulting firm that develops leaders and leading organizations. Subscribe to our leadership development newsletter to download the PDF – "The 6 Trust-Building Habits of Leaders" to learn more about how to build trust with your team.