Communication Case Study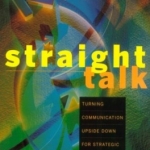 During a speaking tour, Eric Douglas was signing books at a Barnes & Noble in New York City when a slender woman approached and asked whether he might autograph a copy of Straight Talk® for her husband. "He's in banking," the woman said. "I think he might enjoy your message." Six months later, the husband contacted Eric and asked if he'd like to do some work for his bank. "I very much enjoyed your book," he said. "It's the first time I've seen someone capture these different communication styles so simply. I mean that in a good way."
The husband was a chairman of HSBC Bank. He invited Eric to come and do a workshop for his senior management team in New York. That assignment grew into a series of workshops in several areas of the bank, along with executive coaching.
"What fascinated me about this project," Douglas said, "was the opportunity to see the mix of British and American communication at a senior level. There's variation, of course, but the patterns are there. The British, for example, tend to be more process focused, more detailed, more indirect than, say, the Americans."
For several months, Douglas and his team from Leading Resources Inc. worked with HSBC to coach them on the dynamics of teams and different management styles that the bank manifested around the world. As part of the engagement, Douglas asked each team to complete LRI's team assessment, which provides a snapshot of how well each team is doing. Over time, the bank showed improvements in several key areas, most notably the effectiveness of the senior management team in communicating up, down and across the organization.