Our work at LRI often involves facilitating complex planning processes with high stakes in which several state agencies and departments serve as co-leads and co-sponsors. These projects often require establishing and facilitating high-level "blue ribbon" commissions. For example, we facilitated the work of the Autism Advisory Task Force in California to develop recommendations for the state Legislature and Governor to provide comprehensive health care coverage for people with autism.

As a result of these various projects, our team has put together a series of recommendations – a checklist, if you will – to manage these kinds of highly complex projects.
The recommendations are organized into three sections: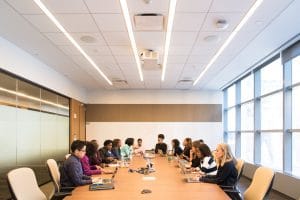 (1) tips related to project scoping and overall governance;
(2) tips related to contractor selection and project management; [Go to this section]
(3) tips for standing up and managing high-level commissions. [Go to this section]
---
Project Scoping and Governance
When multiple entities are involved, be mindful of the complexity and effort that accompanies such a venture. The time and energy invested upfront in defining what you want to achieve will pay off hugely down the road. Devote significant time at the beginning of the effort to define and document:
Desired outcomes
Definitions of success
Deliverables
Timelines
Needed skill sets
Make sure you clearly define what outcomes you and the other entities want to achieve. Develop measures of success.  Put them in writing and make sure everyone signs off. You may want to bring in a facilitator to make sure this work is done well.

Develop milestones to keep the project on track. For example, if a comprehensive report on the state of childcare is one of the desired goals, then define when the first draft of the report is due and when the final report is due.

In multi-stakeholder projects, project governance is an important component. At the outset of the project, have an explicit conversation on decision-making—how will decisions be made among the sponsoring organizations? By consensus? If so, what's the test for consensus? Democratically? If so, is it by majority vote? This clarity of governance is necessary for setting clear expectations and building trust.
[Subscribe to download the Five Types of Decisions PDF…]
At the outset of a project, have an explicit conversation about branding and whether it will be equally shared among sponsors, or if the project will establish its own distinct brand.
Discuss among sponsoring organizations how each perceives the resources they are bringing to the table—for example, some sponsors define resources as dollars, and some define this more broadly to include content expertise and relationships. Moreover, some may feel the funds they are contributing reflect "equal sacrifice" compared to those with more funds to offer.

Have an early conversation about the perspectives and biases that sponsoring organizations bring to the effort regarding what is most important about process and content. This creates the space to air what can be uncomfortable topics and reach agreement on compromises necessary for a successful joint venture.

When one organization in a multi-sponsor project assumes lead responsibility, clearly articulate those responsibilities and the responsibilities of the other sponsors.

As lead sponsor, be cognizant of the need for a process to assure all sponsors' voices are heard during the process. Take time to confirm decisions made and to celebrate small wins, including successful compromises.

The above-noted recommendations are essential for maintaining positive relationships among sponsors when inevitable challenges or tensions arise.
---
Contractors and Project Management
Pursue a competitive bidding process to select a contractor to do the work for you. A bidding process assures that both you, the contracting agencies, and the contractor are clear about success indicators, scope, deliverables, timelines, process, and skillsets.
In the bids, look for evidence of the contractor's relevant experience and expertise in process management.
A multi-stakeholder project requires expertise and disciplined planning related to:
Facilitating engagement and discussion.
Setting milestones and expectations for what is accomplished in each meeting and between meetings in order to meet deadlines.
Determining and aligning all stakeholders around:

The architecture of the final deliverable (and any other important interim deliverables) early on and aligning process to achieve that deliverable.
A timetable within which stakeholder input can be received.
The decision-making process for selecting or prioritizing solutions or recommendations among stakeholder input and ideas.
Recognize that complex planning processes require a variety of skillsets. Make sure the selected team has process and project management expertise, the requisite content knowledge, as well as expertise in multi-stakeholder governance.

At the start of the effort, develop a shared vision and definition of success between sponsors and the contractor. Explicitly explore and define terms used to describe products and deliverables among sponsors and with the contractor in order to build shared expectations and a shared language.

Clearly define and document the contractor team's specific roles in regard to tasks, responsibilities, and responsibilities.

Clearly define and document decision-making responsibilities among sponsors, contractors, and others involved.
Determine which decisions will require consensus and among whom.
Determine which decisions will be delegated, when and by whom.
If chairs or co-chairs are involved, ensure their decision-making authority is clear.
Early on, establish between sponsors and the contractor team an expectation to "press the pause button" whenever there is concern about misalignment or confusion.

Ensure sponsors' project oversight includes:
Regular reference to a project schedule and milestones for draft deliverables to assess whether the project is on track and on time.
Possibly tying payments to milestones and deliverables.
Instituting a change request process, whereby proposed changes to the scope are documented and analyzed for impacts on budget and schedule.
By mid-point in the project, requesting a mock-up of the final product and meeting with key leaders in the process to ensure alignment of understanding.
If ambitious timelines are being considered, explore alternative scenarios that meet the goal but allow some slack – such as setting tighter deadlines for parts of the deliverable, while allowing other parts to be finalized at a later date.
---
Tips for Commission Processes
For multi-sponsor processes that involve a high-level "blue ribbon" commission, it's important to appreciate the need for significant planning and orchestration of the process, by building in time and expertise to:
Map the entire process and timetable related to meeting content, milestones, and deliverables—with adequate time for communication, preparation, and feedback between meetings.
Select commissioners to optimize impact: Commissions benefit from a diversity of individuals who share deep commitment to a common goal.
Establish commissioner rules of engagement.
Determine and align understanding related to who has primary responsibility for meeting agendas, meeting facilitation, and drafting of written deliverables.
Articulate upfront the rules around decision-making authority and process, including the process for arriving at the draft and final recommendations and/or priorities.
Be clear about the scope of the commission process and whether or not it will include implementation planning.
When bringing on a chair or co-chairs to a commission process:
Clearly articulate the expectations of the chair(s) regarding workload, meeting facilitation, and the decision-making process.
If the chair is a high-profile executive, have a practical discussion about his or her own expectations, availability, and level of commitment. Will s/he serve as an honorary chair or working chair? The pros and cons of having a high-profile chair in a process like this must be carefully weighed.
If considering co-chairs, appreciate that this adds yet another layer of complexity—and time—regarding accountability, communication, decision-making, and overall process management.
Thank you for reading. If you have any questions or feedback or would like to partner with LRI, please send us an email at [email protected].
How can LRI can help your board or commission? Visit our Board Governance Consulting page or see what a typical LRI engagement looks like.
---
Leading Resources, Inc. is a Sacramento Board Governance Consulting firm that develops leaders and leading organizations. Subscribe to our leadership development newsletter to download the PDF – "The 6 Trust-Building Habits of Leaders" to learn more about how to build trust with your team.