Leaders and managers who want to build high levels of trust as they delegate need to clearly define their expectations. If you have a specific outcome in mind, communicate it. Don't expect people to develop telepathic powers! If you have a particular expectation in terms of how a report will look, provide an example. If you know the data you want, explain what it is. You shouldn't expect people to understand intuitively what you want unless you've worked with them for many years.
Part of laying out expectations is defining a timetable.
It's not fair to leave people guessing whether something is due next week or next month. You should also identify the critical path decisions (decisions upon which other decisions are contingent and dependent). For example, in opening a new store, the construction schedule will affect hiring, promotions, acquiring inventory, and so forth. Sharing the timetables for critical path issues and sharing updates of those timetables will build trust. You may worry you're micromanaging. But you're not. You're doing what's necessary to ensure alignment of expectations and strong levels of trust.
A key part of clarifying expectations is giving people context so they understand why a given decision is important.
Why are we focusing on this customer segment now? Or this location? Or this timing? As a middle manager for a large retail chain told me: "My job is to communicate the rationales for our decisions, enlarge understanding, and provide light through the trees."
As you start to manage decisions well, delegate decisions downward, and clarify expectations, you move away from a hierarchical culture and begin building a leadership culture, where people focus on the overall goal and their role in achieving it. The "we/they" distinction disappears. What emerges is a culture in which people act both like leaders and followers simultaneously.
This cultural progression is shown here: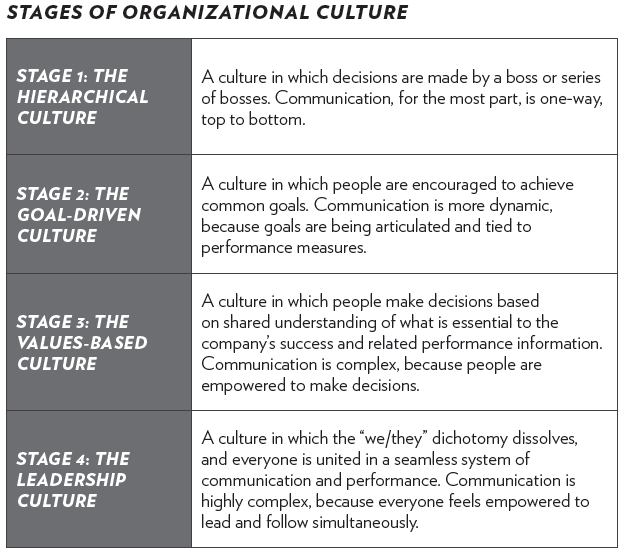 You can learn more about building a leadership culture in my book, The Leadership Equation.
---
Leading Resources, Inc. is a Sacramento Management Consulting firm that develops leaders and leading organizations. Subscribe to our leadership development newsletter to download the PDF – "The 6 Trust-Building Habits of Leaders" to learn more about how to build trust with your team.