In a world where risks are ever-more apparent, how well prepared is your organization to anticipate, manage and mitigate risk? Adapting to external threats, such as the COVID-19 pandemic, requires a serious commitment to strategic risk management.
LRI's consultants facilitate in-depth planning processes that engage and enable your organization to identify and prioritize the most important risks you face. We help you take stock of the key building blocks of your organization – its economics, business context, organizational capabilities, and technology infrastructure.
We utilize our skills in change management, facilitation, and project management to help you develop and embed the mitigation plans you need. We also help you understand the interplay of your mitigation measures so that you can respond to both foreseen and unforeseen events.
Here's an overview of our approach: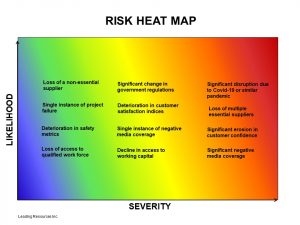 First: We work with an enterprise-wide team (or teams) to develop an initial heat risk map. This identifies and categorizes various risks both by probability and severity. The risk areas we look at typically include:
Strategic Risk: e.g. competitive positioning, trends in technology and workforce availability;
Compliance Risk: e.g. product and service standards
Financial Risk: e.g. credit rating and access to adequate capital;
Operational Risk: e.g. people, processes, and systems;
Environmental Risk: e.g. health and safety; climate and weather;
Reputation Risk: e.g. fraud, employee espionage, disaster response.
Second: Once your risk heat map is developed, we facilitate discussions and decisions about preparedness. How well do we understand a given area of risk? What steps have already been taken to mitigate it? Do we think those are sufficient? How often do we need to refresh them?
Third: We facilitate the development of clear, documented business processes to assure your organization maintains a focus on enterprise risk management. As part of this, we engage in the change management needed to embed the processes. We also identify leading indicators to give you an early warning that your strategic risk management plan may itself be at risk.
Terms of art we use include:
Enterprise Risk Management (ERM) is a comprehensive process that enables an organization to efficiently manage its risks so that it can achieve its stated business goals and objectives.
Key Risk Indicators (KRIs) are measures used to indicate how risky an activity is and whether the organization is subject to – or has a high probability of being subject to – a risk that exceeds defined levels.
Performance Management Scorecards are reports that provide meaningful data on an organization's operations and performance – and which can be used to draw attention to KRIs.
Reduction to Practice refers to a method of converting subjective estimations of likelihood and costs into calibrated, numeric metrics with confidence intervals, setting the stage for the whole team to work from a common vocabulary towards common goals.