Performance Development Life Cycle
---
Leading through others means giving people the tools to succeed. That means giving them many opportunities to learn what they're doing well and how they can improve. It also means providing the infrastructure that encourages people to take responsibility for their own professional development.
Good leaders give feedback all the time. They don't wait for the formal performance assessment. If people only get feedback once a year, they're not getting the feedback at the time when they can best use it – at the point when it's immediate and relevant to their work. Good leaders know the cycle of performance development. The cycle begins when a person starts working – and continues as long as the employee remains with an organization.
The life cycle has these steps: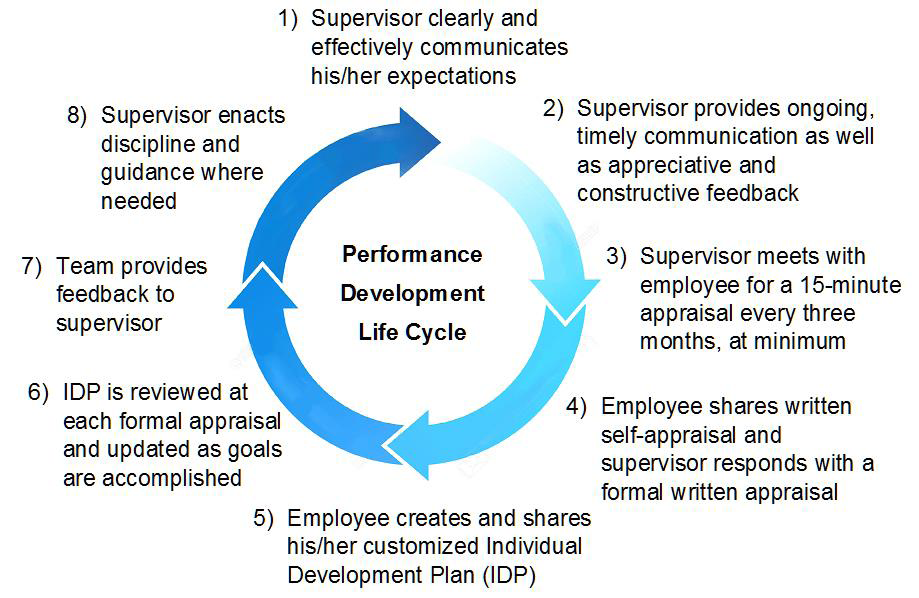 The cycle begins by clearly communicating the expectations and results you want to see. The cycle continues with timely communication and feedback about what the employee is doing well, and what areas need development. Depending on the quality of the employee's performance and the nature of the assignment, it may be necessary to change the employee's responsibilities and expectations.
On a regular basis, the leader should ask the employee to complete a self-appraisal and share it. The leader can then respond, confirming what the employee has identified and determining the employee's specific strengths and areas that need development. Based on that discussion, the employee should create an individual development plan (IDP), identifying his or her short-term development goals and long-term career goals.
The important thing to stress is that this is a positive experience. Every leader, from the CEO on down, needs to have an IDP and continuously work on their professional development. In some leading companies, the CEO shares his or her IDP with all of his or her managers. In others, team members share their IDP s with each other and ask for mutual help in meeting their development objectives.
The point is that no one stops developing. It is a life-long pursuit, and those who are actively attuned and engaged in their professional development find deep satisfaction and fulfillment in it.
Related blog: Four Competencies That Build Trust